Your clothes make up 60% of your personality. A well-dressed and well-groomed man has the power to catch the eye of every beholder. Or maybe more than just the eye, if you can guess what I mean. There are different styles, outfit ideas and different fashions that you can try according to your personality and mood.


Check out the following styles and get your fashion juices to ooze an impressive trend. These 30 outfit ideas will definitely make any men look gorgeously attractive.
1. Shoes Maketh a Man
Shoes are the first thing people notice in a man. Do not let this change of a first impression evade you. Choose shoes that compliment your personal style and complements your clothes. Classy, good quality footwear will make you gather phone numbers from sexy chicks.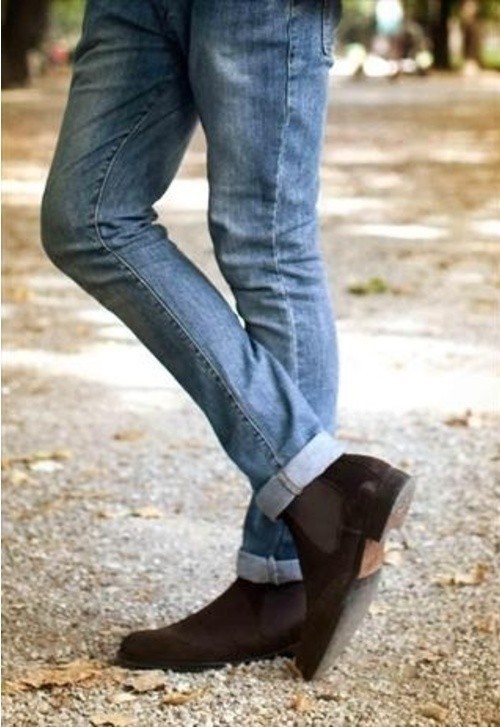 2. Indecent Exposure No More
You remember the days when it was considered inappropriate fashion for any person, man or woman to sport a bare ankle. Times have really changed and 'Mankles' are now the 'in' thing. To get the perfect look, you need to wear a trouser that is not too skinny or too wide and the cuffs rolled by just right. Wear seductive, casual shoes without socks and win the game effortlessly. Ka-Chow!

3. My Man in White Tees and Blue Jeans
Oh! So yummy-liciously gorgeous. A look, simple sporting a white tee with the age old favorite fashion jeans is the look that melts the heart of all pretty damsels. Choose a t-shirt that is not too tight (aarrgghh…) or too lose (really!!). Wear denims that fit you right and bare nothing. Top it up with a leather jacket or tie a cotton check shirt around your waist. Sexy…

4. We Love V-Neck Fashion
V-Neck on a guy? Well, that may sound funny, but teaming up a V-neck sweater with the right button-down shirt and contrasting tie, will surely make your job easy. Choose colors such as navy, olive green or solid gray and strike the right balance between casual and being a tad formal.


5. Suit Suits You Right
No, it's not old school. As yet. A clean, well-fitting suit can turn a boy into a man. Find a suit that complements your shape, tapers at the right places and loves to impress your style. Take command over the world around you with a suit that completes your countenance. But, no need to wear a suit to a date, don't want her to feel being in a boardroom meeting. Yes, you can lighten up the scene by wearing a suit without a tie and unbuttoning a few (the first two will suffice!) top buttons of your shirt.

6. Accessories to Add the Zing And Work Wonders For Your Outfit Ideas
 Accessories are for ladies, you say? Think again. Accessories can make a whole lot of difference to your overall look. Sport a Rolex or a Rado or may be some cool leather or canvas bracelets. You can choose from double-wrap braided bands or maybe wear a trendy neckpiece on an informal attire. Rings too add to your look but make sure you don't overdo things. Sunglasses with a frame that compliments your face will spice up your appearance. Setting the right balance will definitely add a tasteful touch of glamour to your look and these outfit ideas will enhance your looks.

These 30 outfit ideas to make a man look gorgeously attractive are worth a try. Choose a style that makes you feel comfortable and confident. Do not try things that are not so you, suddenly. A gradual change in your attire will help you roll and find the right signature style that suits you. Hope you have enjoyed these simple tips that will help you look classy and so gentlemanly.