Well, news about Kangana Ranaut has been doing the rounds. This beauty with the boldest speech in Bollywood has created a rumble again. This time she has stirred the scene enough to raise quite a few ears. After her post on the famous Social Media portal, Twitter, it seems there is a war raging between her and The First Greek God in the Indian Film Industry, Hrithik Roshan. There has been a hush-hush affair between Kangana Ranaut and the Krrish superstar, until she chose to splatter the beans about her relationship on the social media portal.
Hrithik is known to be as cool as a cucumber, but it seems that the actor has lost his top this time. In fact, he is more than pissed off from her. There was some gossip in the industry that the two had come close on the sets of Krrish 3. Love had spurned between them and Suzanne Khan wasn't very candid about it and walked out. Following this Hrithik Suzanne split and there were a lot wagging tongues which said this was Kangy's doing. However, both parties were amicable about the split, so there was no further smoke about the incident.
But with Kangy's recent statement on Twitter, there has been a lot of action going around, where Duggu hasn't been taking things hands down. He blasted off with big statements like the one given below. This has led to a lot of commotion without any names being taken. He has even gone on to say, there were more chances of him dating the Pope? Well, Hrithik, we never asked that, did we?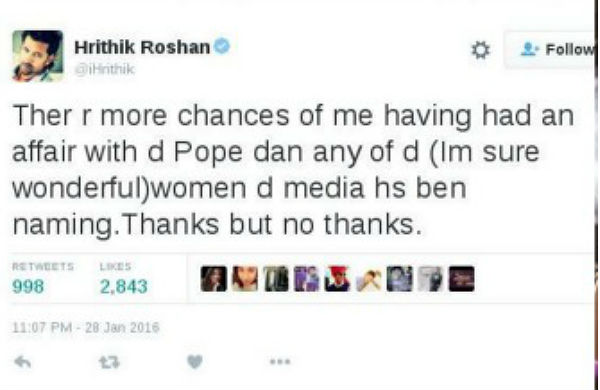 Image Source: catchnews.com
While this bit of gossip is quite old, this tweet from Kangana refueled the controversy. She may have chosen to move on, but Duggu isn't pleased at all with her social expression. He won't ever accept that there was some chemistry between the two. He tweeted off sarcastically that there were more chances of him dating the Pope which set the gossip mongers tongues afire and hence there are a lot of speculation doing the rounds. Hrithik has been shying away from the crowds and spending quality family time with his sons. But that shouldn't be an excuse for him to say things in such a heated way. After all, he has an image in the industry and he should live up to the expectations of his fans.
While Duggu has been facing a lot of heat with his seemingly rude statements, Kangana is taking things in a sporty way. Everybody has been praising Kangana for tackling the issue in such a patient manner. No wonder, she has won a lot of respect from friends and foes alike.
After a barrage of tweet from either side, where no names were taken, but everybody knew who was playing with whom. Kangana has finally nailed it with a finisher.


What can we say about you, Ms. Kangana Ranaut? Hats off to you, Kangana, for taking such a stand.